Another bow season is in the books, and a record year with 20 bucks in the contest!
Check out the Photos page for all the entries, along with more details!
_______________________________________
Hi there fellow hunters!   The Arrows & Antlers banquet is right around the corner!  The location for the banquet is at Savanna Oaks in Fall River (Address: 100 Savanna Road, Fall River, WI), right off Hwy 16.  The doors will open at 5pm on Saturday, February 2nd, 2019 – dinner will be served at 6pm and raffles will begin around 7pm.
If you are one of the 20 members that harvested a buck this season, the antlers MUST be present at the banquet for measurements and photos to be officially entered into the contest.  Due to the large number of entries, we ask that you make arragements to get your antlers to Gary Merkes, Tommy Kempfer, or Kevin Moreland by January 19th so they can be measured before the banquet.
We're asking each member to acquire at least one donation for the sponsorship raffle – please consider donating something yourself, or soliciting a business/company to do so.  The donations received each year are crucial for the ongoing existence of the club.  Please continue to look for those opportunities to acquire a donation for the banquet!  Once you have the donation(s), please let us know what it is so we can prepare the raffle.
We are also in need of additional wild game for the meal – anyone with venison, elk, pheasants, fish or any other wild game… please let us know so we can coordinate getting that in time to prepare it for the banquet.
This years' guest list is now full.  Each guest is required to pay their $25 guest entry fee at the door.  Please visit the Members page to see which guests are on the list.
If you wish to maintain your membership for the 2019 season, please bring your $35 membership fee to the banquet (if writing a check, please make it out to Gary Merkes or Country Cafe – DO NOT make it out to Arrows & Antlers) to avoid risking the loss of your spot as a member.  If you do not intend to renew your membership, please let us know so that we can extend an invitation to the next person on the waiting list.
If you are unable to attend the banquet this year, please let us know, as we like to purchase enough membership raffle prizes for each member in attendance.  We look forward to seeing you on February 2nd, Happy New Year!!
Gary Merkes / gary@arrowsandantlers.com / 608-438-3786
Tommy Kempfer / tom@arrowsandantlers.com / 920-723-2140
*Check out all of the Arrows & Antlers club information and 2018 photos by visiting our website! www.arrowsandantlers.com  If you have a photo of something you harvested in 2018 (ie. Turkey, Elk, gun deer, etc) please send it to pictures@arrowsandantlers.com so it can be included on the website and the banquet slideshow.
_______________________________________
Staggin' 'em!
A BIG Congrats to Dan Hanson for making it count, twice, on a Poland Red Stag hunt!
_______________________________________
Bear'in Down
Congrats to Shawn Arnold for harvesting an awesome 200lb Black Bear in Osseo, and Randy Messer for bagging this dandy 190lb Black Bear near Ashland – what a great start to the hunting season!
_______________________________________
Check out this Colorado 5×6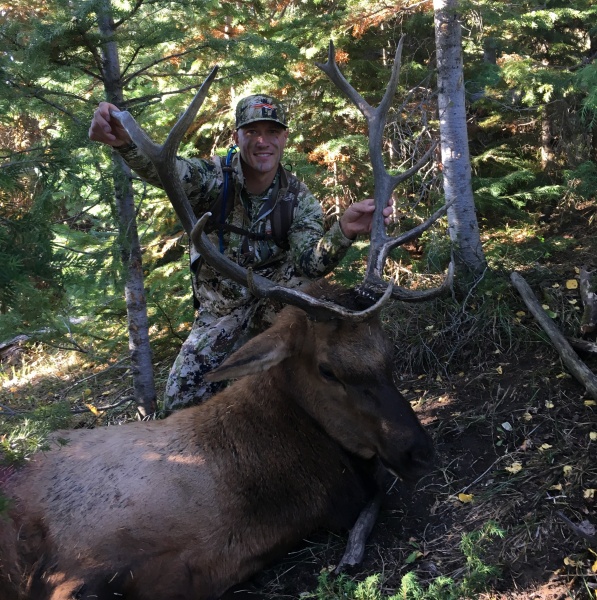 Congrats to Zach Hampton for zipping an arrow into this monster Colorado Elk – way to go!
_______________________________________
A picture is worth…
Got your trail cameras out?  If you have any exciting photos, please send them to pictures@arrowsandantlers.com!